A-list celebrities packed their bags (and gowns) and jetted to France for the 2008 Cannes Film Festival. First up for the event was the premiere of the thriller film
Blindness
.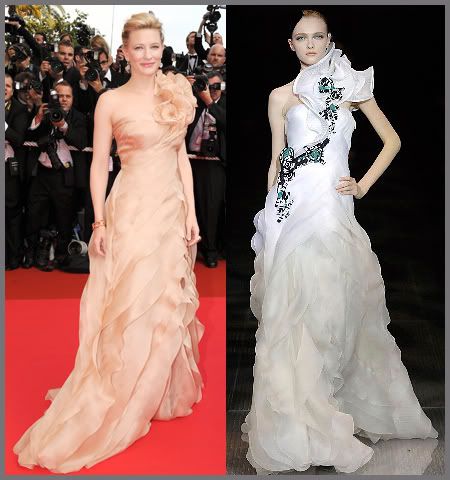 Cate Blanchett looks absolutes glows int his stunning one shouldered Armani Prive ruffled gown. This is perfection, you cant look any better than Ms. Blanchett does, her hair, make up and gown all work so well together. Who would have thought that she gave birth some weeks ago.
Julianne Moore gets eccentric in this yellow Christian Lacroix couture gown with black feather and flower detail. She definitely wears it much better than the runway model. I think it really works on Moore, she's kept her hair, make up and accessories to a minimum which was a good balance for such a detailed gown.
Eva Longoria Parket stands out on the red carpet in this mediterranean blue Versace couture gown. The gown is amazingggg, however, i would have picked a different hairstyle.
Natalie Portman goes short in a royal purple ruffled Lanvin frock. She always has good make up!
I'm glad that someone wore this Alberta Ferretti gown as you couldn't see much detail on the runway pictures, Mischa Barton looks beautiful in the asymmetrical silk gown.
Faye Dunaway was the ultimate hollywood glamor actress, and still is in this Christian Dior jacket and skirt.
French actress Elsa Zylberstein is sunny in this beautiful Christian Dior resort gown.
Source: Celebutopia, jezebel