The supermodel made her social rounds this week, and of course she did it in style.
Looking lovely in a modified Chanel gown from the Spring 2008 collection. Here Schiffer attended the Vogue Magazine 20th anniversary party, at the Santo Mauro Hotel on Wednesday in Madrid, Spain.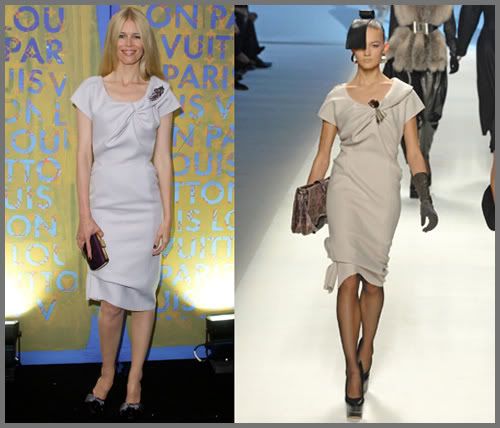 Looking chic and elegant in Louis Vuitton as she arrives to the Louis Vuitton & Richard Prince dinner at The Serpentine Gallery on Tuesday in London, England. I love this look, timeless and effortless. Schiffer looks stunning!
Schiffer wore the same dress but in different colours to two different events. In the navy Versace one shouldered dress, Schiffer attended the Calleija Jeweller Launch Old Bond Street also on Tuesday before the Louis Vuitton event. Two days earlier Schiffer donned the same dress in a beautiful dust pink colour to the Uomo Vogue 40th Anniversary Celebration Party as part of Milan Fashion Week Menswear in Milan, Italy. Both dresses look stunning, i love the navy dress with the brooch but the dusty pink is gorgogeous. Which one of Schiffer's Versace dress do you prefer?
Source: Celebutopia, Style